Senior Services research, innovation and business events in Beijing, May 2014
Sep 29 2014 · Events

– Minister Paula Risikko visit in Beijing

– Third China International Senior Services Expo (CISSE 2014)

– Intelligent Community and Home-Based Senior Care Service Innovation

– Workshop at Zhongguancun Life Science Park

 
On 4-5 May the Third China International Senior Services Expo (CISSE 2014) and related Forum, Beijing. A Finnish booth was organised together with Active Life Village, Finnish and Chinese companies and BJAST. About 400+ customers visited and several b-2-b meetings were organized. The Finnish business delegation, led by Mr. Jaakko Rissanen, CEO, Orion Diagnostica, and the official delegation of Minister Paula Risikko's with Vice President of China Association of Social Welfare, Ms. Xiaoli Feng, visited the booth and studied the solutions and established cooperation.
On 5 May the Senior Service Science and Innovation Workshop was organised at Beijing Academy of Science and Technology, BJAST, Beijing. Matti Hämäläinen gave an invited talk and joined the planning of future activities with BJAST and the 2012 co-initiated International Research Center for Senior Service Innovation (IRCSSI) involving BJAST, Fraunhofer IAO and Aalto with DIGILE and ALV. BJAST is one of the key partners in China for research in Senior Services Innovation.
On 6 May the International Seminar on Intelligent Community and Home-Based Senior Care Service Innovation was organised at Yulong International Hotel, Beijing. On behalf of the Finnish parties Mr. Matti Hämäläinen gave a presentation on Senior Care Service Innovation in Finland. In the afternoon a visit to the Yangfangdian Elderly Care Community and to Cuncaochunhui Care Home was organised for the business delegation of Minister Risikko and the Sino-Finnish cooperation and experiences were presented by Dr. Jianbing Liu, Director of BRCUSE/BJAST, and other experts. Both events received visibility in the Chinese print media and TV.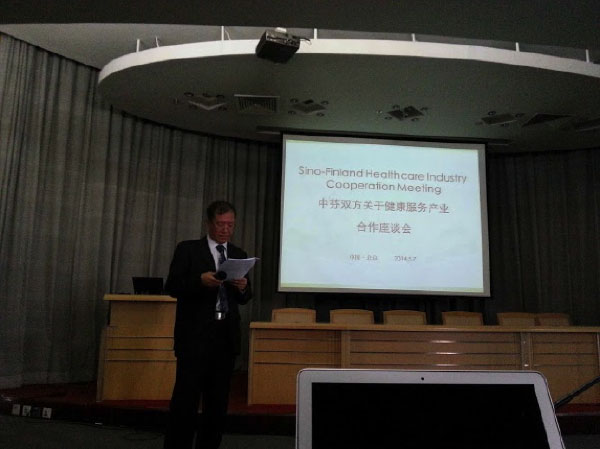 On 7 May a workshop for the business delegation of Minister Paula Risikko was co-organised with ICT Alliance, Finpro and Zhongguancun Life Science Park (LSP), Beijing, to discuss cooperation opportunities in health and wellbeing with particular focus on the wellbeing of elderly and the development of services for senior communities. A very large community of over 1000 people is planned at Zhongguancun LSP, including also a Peking University hospital.
For more information, please continue reading from "China-Finland ICT Alliance Newsletter April-June 2014".