sino-Finnish
posts displayed by tag
Jun 26 2014
China-Finland ICT Alliance and DIGILE activities in education represent the "Learning Solutions" part of the Sino-Finnish Learning Garden (SFLG) that has been initiated by the Finnish Ministry of Education and Culture (MoEC) and being developed in cooperation with the Chinese Ministry of Education (MoE). Working together with the key academic, public and industry partners in both countries, this focus area aims at bringing schools, academia, national research programmes (e.g. the Academy of Finland and Tekes, the SHOKs such as DIGILE), China-Finland ICT Alliance, companies and authorities to join their efforts to co-create modern learning solutions to foster 21st century skills among students in China and Finland. It covers learning research, teacher training and learning solutions, i.e. technology, services, and content, ranging from kindergarten to primary, secondary, higher education and to vocational and professional education.
The DIGILE and China-Finland ICT Alliance activities take place in two main areas in learning solution cooperation:
I EduTech Business Ecosystem: for creating, testing, adapting and scaling innovative solutions in education, involving international business pilots together with Chinese partners. The EduTech Ecosystem is meant for companies.
II EduTech Research Forum: for universities and research institutions, planned to launch in September 2014 (at the Forum on Education Solutions for Sino-Finnish Learning Garden – "21st Century Learning Skills").
In addition there are ongoing discussions for setting up joint education Cloud services for R&D&I and pilots in China.
Some observations on online education and learning solutions market in China
Online education and learning solutions area is under an active development both for serving public sector and private sector educational institutions as well as the huge online (and mobile) consumer market in China.There are several major developments and education reforms ongoing or being planned that may provide joint development and business opportunities. Examples of these include the need to deliver education to the countryside, the growing demand of vocational education including in public and private sectors, and the education reforms ranging from Kindergartens to universities that will extensively leverage digital delivery (e.g. the education cloud services, the e-textbook and e-Schoolbag initiative and others).
The Chinese education tradition has emphasised performance in exams at various levels and the major goal for students is the Gaokao national university entrance exams. In June 2014 close to 10 million students participated.There is a call for renewal of the education system to emphasise more open-ended and innovation-driven approaches and the learning of "soft skills" in addition to the "hard facts" as the prevailing education approaches are not optimal for meeting the future needs.
What Finland may bring into play also in the EduTech area is the support for enabling the move towards student-centered approach, complementing the theory and textbook based materials with real-life experiences, and providing solutions for learning the so called "21st century learning skills" in social settings, encouraging experimentation and allowing for failure. The "Learning is Fun" approach promoted by many of the Finnish education experts and EduTech companies can also encourage students to become involved in social and physical activities for learning the "soft skills" and for better wellbeing.
The rapid growth of China's Internet and mobile user base has continued and the number Internet users in China reached over 600 million by 2013. It is particularly noticeable that since the penetration of (mobile) Internet reached close to half of the population the online education market has grown even much faster. While market growth demonstrates the potential, the field is becoming fiercely competed as market positions are being built. The established players, like New Oriental, face new challengers, including the Internet e-commerce, social networking and games giants, like Alibaba and Tencent, that provide education services and apps stores. Actually, new partnerships are being formed among the players (e.g. New Oriental has teamed up with BesTV and rumoured to also join forces with Tencent).
Some recent trends in the market indicate that parents are prepared to spend even more on the education of their child as the income level has risen. In order to adopt new solutions there should be demonstrated evidence on the benefits, including not only new skills and wellbeing but also maintaining or improving performance in the mandatory tests, when dealing with curriculum topics.
The rural-urban migration continues and will be increasing demand for vocational education and adult education encouraging private investments. Working together with actors involved in the development of the vocational education and well as in the renewal of the university sector, like the development of the universities of applied sciences in China, there will be better visibility to the needs for digital solutions and possibilities to cooperate with their development and large-scale deployment. While cooperating on research and pilots related to education reforms the learning solutions (technology and services) should be considered as a part of more comprehensive Sino-Finnish solutions, involving teacher training, curriculum development so that the learning solutions are integrated, and the development of the physical and virtual (online) learning spaces, including classrooms and complete schools that enable new kinds of learning and also support wellbeing of students.
About the challenges and opportunities in the public and private sector and consumer market
Despite the rapid growth, the consumer market in digital content and services appears to be challenging for international players. For example, the entertainment content, such as movies, music, TV shows and games the models differ from those in the West. For example, in mobile apps and games, the revenues are seldom generated from the downloads but rather in-app (in-game) purchases of value adding services, such as speeding up in the game, getting to next levels, etc. Due to the sheer size of the market experiencing growing demand of learning services in areas such as English language or mathematics, there is a lot of competition, including also free offerings. However, the parents often pay for the solutions if they can be demonstrated to bring progress in learning (e.g. in passing the curriculum tests).
Taking the market environment into account in planning, the offerings and business models will be needed. With quality content and right kinds of partnerships, the consumer market is a viable area. There is a good track record of Finnish game companies to be followed by educational offerings.
In parallel, the public education and private schools markets will be addressable when the appropriate channels are established and solutions certified. Indeed, in the public sector where the solutions are part of the curriculum, the role of education authorities is essential and without being approved to the curriculum it will be difficult to bring solutions to the market. As some parts of the curriculum may be defined at the local level, it will be important to establish cooperation with authorities and education experts who can mandate and carry out special pilots at the City and District levels. In the Sino-Finnish Learning Garden, contacts have been established with Municipal Education Commissions in Beijing and in Shanghai. For a Finnish provider, one school district even in a second tier city may be a major case.
The EduTech Ecosystem – enabling business pilots in China
While there are many interesting learning area comes in Finland they often lack the resources to go alone into new markets, like China. With EduTech Business Ecosystem, representing the learning solutions of the Sino-Finnish Learning Garden, we gather together companies to form business pilots and "clusters" to better to meet the demand. In the Ecosystem the effort and risk can be shared and the creation of a more comprehensive and therefore more attractive offerings becomes possible.
More importantly, the aim is not just to enable of Finnish solutions export and localisation in China, but together with Chinese partners to develop solutions for China and Finland – and to the global learning market."We try to get contacts for the benefit of business solutions, experimentation, implementation and business development in China. And when we put the reputation of Finland in the game, we have together with companies to ensure that we keep our promises. This is for all of us it is a positive challenge."
Cooperation with Tekes Learning Solution programme
EduTech Ecosystem and ICT Alliance have initiated cooperation with Tekes Learning Solution programme to leverage the synergies. On 3 June Tekes Business Breakfast was organised at Finlandia Hall by the Learning Solutions Programme in cooperation with DIGILE. The meeting gathered a number of companies and organisations interested in the EduTech Ecosystem and in exploring the Chinese education market.
The programme was opened by Ms. Suvi Sundquist, Director of the Learning Solutions Programme of Tekes, followed by presentation on EduTech Ecosystem and the Sino-Finnish Learning Garden by Mr. Matti Hämäläinen, and the FORGE Service Lab by Mrs. Pia Erkinheimo, Head of Crowds & Communities, at DIGILE. The session resulted to the group of interested companies join EduTech in areas such as primary school education as well as professional education.
Summary of the activities in Sino-Finnish EduTech cooperation in the April-June 2014 period
Nov 08 2013
China-Finland ICT Alliance October 2013 Update
China-Finland ICT Alliance October 2013 Update

402.22 KB
Finland as "Country of Honour for 2013" in Pujiang Innovation Forum in Shanghai
Finland was nominated by the Ministry of Science and Technology of China (MOST) as the "Country of Honour for 2013" for Pujiang Innovation Forum 26-27 October 2013 in Shanghai. Pujiang Innovation Forum has been established in 2008 to highlight best practices in international innovation cooperation and to exchange views, knowledge and visions between industrial, governmental and academic partners. Pujiang Innovation Forum is one of the most important events in this field in China. The grand theme of this year's forum was "Innovation-Driven Development and the Role of Enterprises". The forum was a very good fit for China-Finland ICT Alliance as it is run by MOST (that established ICT Alliance in 2009 together with the Ministry of Employment and the Economy of Finland) and it involves long-term key partners in Shanghai, the City of Shanghai, Zhangjiang Hi-Tech Park, and Tongji University as its main organisers. Prior and after to Pujiang Innovation Forum there were meetings and workshops organised by ICT Alliance in Beijing and Shanghai as described below. ICT Alliance was a member in the preparation team of the forum programme from the Finnish side among other Team Finland actors, as well as a member of Finland's official Pujiang business delegation.
In his opening speech, Mr. Jan Vapaavuori, Minister of the Economy of Finlandhighlighted the current R&D&I efforts of the China-Finland ICT Alliance as an active joint platform in international innovation cooperation. The forum also had a number of other guest speakers and distinguished panellists, for example, Mr. Wan Gang, Minister of Science and Technology of China, Mr. Yang Xiong, Mayor of the City of Shanghai, Mr. Peter Vesterbacka, Chief Marketing Officer & Mighty Eagle, Rovio, Mr. Antti Pirinen, Vice President, Kone, and Mr. Pekka Soini, Director General, TEKES.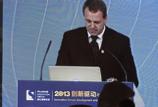 Key topics
that were discussed in the forum:
joint R&D projects are a concrete way to support and encourage international cooperation;
need for new models in value creation;
how to more effectively allocate investments into knowledge and create new financing models; and
investments into learning and capacity building are essential for boosting industrial sectors.
The close cooperation between the City of Shanghai and City of Espoo and Chinese and Finnish high-tech innovation actors was highlighted by signing a Memorandum of Understanding (MOU) between the Espoo City & China-Finland Golden Bridge Innovation Center and Shanghai Zhang Jiang High-Tech Park, by Ms.Tuula Antola, Director of Economic and Business Development of the Espoo City, and Mr. Lei Ding, Director of Zhang Jiang High Tech Park Administrative Committee.
The recent launch of the new China (Shanghai) Pilot Free Trade Zone and the Bund Financial Innovation Pilot Zone are signals of the open approach and interest in experimenting with new and innovative cooperation models. They highlight China's position and aim at becoming key global node for trade, logistics and financial services. These developments are highly relevant to the ICT Alliance and they match Finland's vision: working together with key international partners to establish an "Enabling hub for global digital business and innovation – where East meets West and South". In the increasingly digital world Finland aims at providing open, trusted, transparent and reliable base for data and services. Combining highly available digital services and communication infrastructures with trusted and secure management of large scale transactional and personal data and identities would provide businesses and public actors a unique international hub for big data and cloud based services. And, fast growing digital business can also be fun, even in Finland, as illustrated by the well-known global games companies Rovio (Angry Birds), attending Pujiang Innovation Forum, and Supercell.
Z-Park Enterprise Forum with ICT Alliance: Faster from R&D&I to Business
Zhongguancun Science Park is one of the most intensive R&D&I foundations in China. To boost cooperation with Finnish companies, it invited 30 most innovative companies from its community to join the forum on Finland-China business and R&D&I cooperation on 30 October 2013 in Beijing. The key objective was to identify and discuss partnership between Finnish companies and Zhongguancun Science Park in the field of ICT and digital solutions and applications. The forum was chaired by Mr. Zeng Xiaotao, Managing Director, International Operations, Administrative Committee of Zhongguancun Science Park, and hosted by Mr. Yang Nan, Vice General Manager, Beijing Zhongguancun Software Park Development Co., Ltd. Mr. Jani Kaarlejärvi and Mr. Matti Hämäläinen presented current and future business activities and joint business initiatives of DIGILE and China-Finland ICT Alliance with the special focus on how joint R&D&I projects create business value for SMEs and which way it is possible to fasten processes from R&D to market entry for new solutions, products and services.
Following joint R&D&I interest areas were identified:
e-banking and e-commerce;
gaming;
data analytics;
5G technology;
cloud security ; and
future media technologies and platforms.
Zhongguancun became the first high-tech park in China in 1988 when the State Council approved the establishment of the Beijing New Technology Industrial Development Trial Zone (predecessor of the Zhongguancun Science and Technology Park). During the past two decades, Zhongguancun has gathered nearly 20,000 high and new-tech enterprises, including such as Lenovo and Baidu. Zhongguancun enterprises have formulated 86 important international standards like TD-SCDMA, McWill and IGRS, and about 800 national, local and industrial standards. Its technology transaction values exceed a third of the country's total, including 80 percent of project products and services exported outside Beijing. In 2010, the gross income of enterprises in Zhongguancun achieved 1.59 trillion yuan, an increase of 22.6 percent, taking up about one seventh of all high and new-tech zones in China and contributing 23.5 percent to Beijing's economic growth. Zhongguancun is home to 10 parks, namely, Haidian, Fengtai, Changping, Electronics City, Yizhuang, Desheng, Yonghe, Shijingshan and Tongzhou Parks as well as the Daxing Biomedicine Industrial Base. Zhongguancun's venture capital cases and investment amount every year account for about a third of the country's total. For example, Zhongguancun Software Park opened up an office in Otaniemi, Espoo, in 2012. Zhongguancun Software Park Development Co, Ltd is specialised in high tech park development and its establishment was granted by Beijing Municipal Government. Its three shareholder companies are Beijing Technology Park Construction Group, Beijing Capital Steel, and Beijing Haidian Technology Park. Zhongguncun Software Park Development Co, Ltd was founded on 7 August 2000 with initial capital of 500 million RMB ($62.5 million USD).
Companies that participated in the Enterprise Forum included, for example:
Qihoo 360 Technology Co Ltd (NYSE: QIHU)

is a leading Chinese supplier of Internet products and services and mobile safety;

iSoftStone (NYSE: ISS)

is a leading China-based IT services provider, serving both Greater China and Global clients.

UFIDA Software Co Ltd

is the largest local management software provider in China and the Asia-Pacific region;

Beyondsoft Corporation

offers end-to-end development and testing cloud computing solution and in 2013 was awarded "TOP 50 Service Outsourcing Players in China";

Senscape Technologies

is China's first mobile augmented reality platform dedicated to developing high-tech company, augmented reality technology is the intelligence and wisdom of the city's major tourist supporting technology;

Beijing GEO Technologies

develops big data technologies to apply in the advertising industry, and its patent DataQuateTM technology platform processes 4TB real time internet audience profile data/day, coming from operator broadband and internet, and has managed advertising resources for blue chip clients including Citi-Bank, Pepsi, Peugeot, Johnson and Johnson, Suning.com etc.;

Anplat Co., Ltd.

Is an industry-focused BI (Business Intelligence) standardized software solutions company;

Kingsoft Corporation Limited

, as one of best-known software companies, is a leading software developer and Internet service provider in China, and on October 9th, 2007, Kingsoft was listed on the Hong Kong Stock Exchange;

ChinaCache (NASDAQ: CCIH)

is one of the world's leading providers of content delivery network and cloud services; and

Beijing Venus Information Security Technology Co., Ltd,

listed on the Shenzhen Stock Exchange, has a perfect professional security product line. In the government and the army it has 80% market share of the world's five hundred 60% of Chinese enterprises to provide safe products and services; in the financial sector, it has on policy banks, state-owned commercial banks, national joint-stock commercial banks to achieve 90% coverage. In the field of telecommunications, it offer the three operators, China Mobile, China Telecom, China Unicom, security products, security services and solutions.
Workshop on Creating New Solutions for Boosting Innovation and Entrepreneurship – Preparing China-Finland R&D&I Initiatives for Global Impact
DIGILE/China-Finland ICT Alliance, Sino-Finnish Centre and Tongji University in cooperation with eBEREA network partners organised a workshop on Creating New Solutions for Boosting Innovation and Entrepreneurship on 28 October 2013 in Shanghai – right after the Pujiang Innovation Forum. The main objective of this invitational brainstorming workshop was to
discuss and prepare such new China-Finland initiatives in digital services and business that have potential for global impact. In additional to digital industries, e-commerce and Internet financing the potential of digital services and "big data" in environment, energy and urban environment were also on the agenda.
These areas were represented by
CLEEN
(Finnish Strategic Centre for Science, Technology and Innovation in Energy and the Environment) and
RYM
(Finnish Strategic Centre for Science, Technology and Innovation in Built Environment Innovations) and
INSIGMA
from the Chinese side.
The workshop focused on some of the key themes of Pujiang Innovation Forum looking to identify concrete topics and models for industry, academia and public sector cooperation. "Innovation needs Capital" was one of the main themes of the forum, as well as the need to boost SMEs and start-ups and organise new kinds of industry clusters and networks with established players. In China-Finland cooperation the aim is to build the "2-way gateway" and also link other partners and markets in the Nordics, Baltics, the European Union as well as other regions, including the emerging economies.
Invited Chinese participants represented rapidly growing industrial sectors and especially those that are focal in China-Finland/EU R&D&I cooperation in the field of e-business and services, with Big Data as one common denominator:
e-service and e-payment;

e-logistics and supply chain finance;

P2P lending and micro financing research;

e-payment risk management;

text mining and sentiment analysis;

IT innovation and industry chain applications; and

solutions for clean technologies and smart buildings.
Chinese side participants include, among other, Prof. Zhangxi Lin (co-chair), Director, Sichuan Key Lab of Financial Intelligence and Financial Engineering, SWUFE and TTU, Mr. Li Defeng, Director, Research Division of Database, Huawei, Ms. Cao Heng, Director, IBM Shanghai Research Institute, Mr. Xie Shan, VP, Strategic Planning, Senior Researcher, Allinpay, Mr. Li Lele, CTO, Smart Logistics, Ms. Wang Xia, President, NoyaXe Technologies, Mr. Zheng Xianrong, Vice Director, Beijing Research Institute, INSIGMA, Prof. Xiaofeng Ma, Tongji University, Prof. Qiang Ye,
Associate Dean, Harbin Institute of Technology, Mr. Xiaolin Zheng, Deputy Director, eService Research Center, Zhejiang University.
Finnish side participants include, Mrs. Merja Hiltunen, Director (Steering and networks), TEKES, Mrs. Ulla Hiekkanen–Mäkelä, Executive Director (Marketing and communications) TEKES, Mr. Teemu Varonen, Programme Director, Senior Adviser (Finland–China collaboration in ICT), TEKES, Mr. Jarmo E. Heinonen, Consul (Science and Technology), Consulate General of Finland, Shanghai, Head of Tekes Shanghai, Ms. Karoliina Peippo, Communications Manager, CLEEN (Finnish Strategic Centre for Science, Technology and Innovation in Energy and the environment); and Mr. Vesa Ijäs, Head of Account Management, Lahti Development Company LADEC Ltd. (Vice Board Member & Representative of RYM (Finnish Strategic Centre for Science, Technology and Innovation in Built environment innovations). The Finland side organisers were represented by Mr. Matti Hämäläinen (co-chair), Director (China cooperation), DIGILE and Professor at Aalto, Mr. Jani Kaarlejärvi, Director (International Coordination), DIGILE, and Matti M. Hämäläinen, Director (Operations), Sino-Finnish Centre.
Workshop on Elderly Care Services Research in Beijing
ICT Alliance joined a workshop on International Research Center for Service Innovation for Elderly People (IRCSI) at Beijing Academy of Science and Technology (BJAST) in Beijing on 23 October 2013. The workshop involved participants from BJAST, Fraunhofer Institute for Industrial Engineering (Fraunhofer IAO), Aalto University, DIGILE and Active Life Village Ltd. It was organised to review progress in 2013 and plan joint activities for spring 2014,with milestones based on a pilot in Yangfangdian Community and key elderly care industry events in China during the planning period. IRCSIwasestablished in December 2012 as a China-German-Finnish cooperation platform by Beijing Research Center of Urban System Engineering (BRCUSE) of BJAST, and by Fraunhofer IAO with Aalto University as key University partner.
DIGILE and Active Life Village were present in the founding event and in 2013 the cooperation was formalised by the MoU signed during Ms. Paula Risikko's, Minister of Social Affairs and Health, visit to Beijing on 25 September 2013. Services in the ageing society is a focus area in China-Finland R&D&I cooperation and BJAST and IRCSI are important entities in that work. During 2013 cooperation has been active between the Finnish, Chinese and German partners based on bilateral projects and several visits have taken place to China and Finland. While this cooperation continues in 2014 also multilateral research projects are considered including forthcoming China-EU calls under Horizon 2020. Experiences gained from the pilots in Finland and China and relationships established provide a basis for business-oriented research and development. With the support of BJAST President Mr. Ding and other key people of BJAST, cooperation has also opened up opportunities to meet with local and municipal decision-makers in Beijing to help pursue the systemic changes in the way elderly care is provided. In addition to technology, the work involves studying policymaking, financing, regulatory issues as well as concrete provision of training in the emerging field of digitally supported elderly services and assisted living.
Workshop on Espoo-Shanghai cooperation, Sino-Finnish Centre (Aalto-Tongji Design Factory)
The workshop on 25 October was organised to plan actions based on the agreement signed during the visit of Mr. Yang Xiong, Mayor of the City of Shanghai, in Espoo in August 2013 and the MoU to be signed at Pujiang Innovation Forum between the City of Espoo and Zhangjiang Hi-Tech Park on 27 October 2013. It was agreed in the workshop that the goals of this cooperation need to be ambitious as there is commitment from both sides (Finland and China) and a special Sister City relationship. Espoo and Shanghai together can represent key "Innovation Hubs" in Finland and China. In the next cooperation phase, the focus will be on areas where Finland and China can combine their complementary capabilities to address some of the priorities in China for creating globally relevant models and solutions and in particular to focus on topics where the City of Shanghai and the City of Espoo can make a different not only regionally but internationally. The areas have already been identified and the meeting focused on prioritising, action planning and agreeing on how various actors can best work together in the "Team Finland" spirit.
The areas include education and training, and also vocational education and training. In addition to primary, secondary and higher education, there is potential for training business in the cooperation and also this is needed as we together move in new areas where education and training policy guidelines and regulations need to be developed. An illustrative example is rapidly booming "industry" of elderly services which is almost a "greenfield situation" in China and solutions can only be developed by working closely together. Other emerging priority areas include environment, energy, citizen centric urban planning and public services, among others. Espoo (and the Helsinki metropolitan region in general) and Shanghai are also actively developing tourism and have very complementary assets and approaches, and the opportunities for both areas are unique.
ICT Alliance & National Natural Science Foundation of China (NSFC) Meeting in Beijing
ICT Alliance had a meeting on 5G cooperation with National Natural Science Foundation of China on 30 October in Beijing, and the initiative received a positive response from NSFC. Key experts from the NSFC side were Mr. Zhaotian Zang, Deputy Director, Information Science, Ms. YingJie Fan, Deputy Director of International Cooperation and Ms. Xiong Xiaoyun, Deputy Director of Electronics and Information Systems. Prof. Xiaohu Ge, Department of Electronics and Information Engineering, Huazhong University of Science and Technology (HUST) joined as an expert representing substance expertise and research outline that has been drafted together with WiCO and the Finnish key research partners: University of Oulu, Aalto University, Tampere University of Technology, VTT, and HUST on behalf of the Chinese network research partners of the China-Finland ICT Alliance. All key Finnish partners are involved. The Finnish side was represented by Mr. Matti Hämäläinen and Mr. Jani Kaarlejärvi as well as Mr. Mika Tirronen, Counsellor for Science and Education, Embassy of Finland in Beijing, who represents in China the Ministry of Education and Culture and the Academy of Finland. In the meeting it was agreed that the topic of advanced 5G research will be taken on the agenda when new international activities are planned between China and Finland and the EU. This will involve preparatory joint China-Finland-EU workshop in Q1/2014 in Beijing with the support of NSFC, and initiating a concrete dialogue on ICT and advanced networking to be included in forthcoming joint call. Possibilities for multilateral programmes were also discussed.
More Information on China-Finland ICT Alliance and DIGILE
For more information, please visit the China-Finland ICT Alliance website www.ictalliance.org, DIGILE website www.digile.fi or contact Mr. Matti Hämäläinen and Mr. Jani Kaarlejärvi (firstname.lastname(at)digile.fi).
Sep 28 2013
Ms. Marja Aspelund, Consul General of Finland in Shanghai
Keynote address
China-Finland ICT Alliance Official Phase II Kick-off Forum, Shanghai, 24 September 2013
Dear experts and friends of the China-Finland ICT Alliance,
On my behalf, I would like to welcome all partners and other invited experts to this China-Finland ICT Alliance Phase II kick-off event.
I am delighted to notice that so many Finnish and Chinese partners have gathered this week to work on topics of joint interest and also to develop cooperation models and mechanisms even further.
This kind of cooperation is exactly what we need.
As we all are aware, China is a key partner for Finland in many areas.
Especially in the field of research, development and innovation (R&D&I), the importance of China has grown very rapidly during the last few years. China is number one in many fields.
China has its strengths, and Finland has its own. By actively linking these strengths and capabilities together, we can create a successful innovation environment for our business, industrial and academic cooperation.
This innovation-friendly environment is needed to develop new ideas, to test and to commercialise them and to create new jobs thus benefitting society as a whole.
To strengthen Finland-China R&D&I cooperation, many key decision-makers have visited China this year. Our President Mr. Sauli Niinistö visited China in the Spring and now very recently our Prime Minister Mr. Jyrki Katainen headed a business delegation.
Likewise, many Chinese leaders have been in Finland. For example, Mr. Yang Xiong, Mayor of the City of Shanghai visited the Helsinki Metropolitan area and Shanghai's sister city, Espoo, in August.
One of the guiding themes of all these important visits has been innovation and the utilisation of new digital solutions in various areas of industry and society, including aging care, urbanisation, traffic, environment, education, and other areas.
In all these so called grand societal challenges ICT and digital services can produce very concrete solutions.
To enable so called systemic transformations, it is important to combine both top-down and bottom-up approaches and involve key stakeholders. In many areas the active role of cities is essential. City of Shanghai is a very good example of the development of future cities and we appreciate longstanding cooperation that City of Shanghai has had with Finland, and with City of Espoo in particular.
Also the education sector can take much bigger role in boosting innovation. In addition to facilitating research on specific areas of technology and application, the ICT Alliance has demonstrated its potential for becoming actively involved in ongoing developments in China's education and innovation systems.
There is still a substantial unleashed potential, and students and university campuses represent a unique environment for creating and testing new solutions. This aspect is also included the ICT Alliance's next phase activities.
When launching the ICT Alliance Phase II today, we are very happy to recognise that projects and activities focus on jointly identified key industrial and academic areas. For example:
Green communication: Energy efficient networking and future networks help address many needs in very rapidly growing wireless communication.
Intelligent city: Development of technologies for intelligent cities enable new solutions for traffic and various demand-driven services that again enable better use of resources.
Ageing: Finding solutions for ageing society, elderly care and wellbeing, are a common challenge. The scale in China makes it also a major opportunity for jointly creating globally unique and competitive solutions.
Environmental solutions: Environmental monitoring and sensing as well monitoring and control of energy use are topics that have gained a lot of attention and are included in Phase II projects.
Education: In the education area, ways of learning and supporting technologies are in transition. Finland together with China can create totally new solutions to learning by combining expertise in teacher training, in learning and brain research, in mobile and low energy technologies and in game areas.
China-Finland ICT Alliance has been active since 2009, and it has very well met its objectives in stimulating cooperation between China and Finland.
Now, at the launch of phase II projects the initial scope has extended and expectations are even higher.
Together China and Finland are well positioned for co-creating new innovative solutions and global breakthroughs.
China has extensive resources for research and development – and a large single market for highly scalable solutions. Finland has complementary expertise in key areas and can also act as a "gateway" linking the European Union and other international partners and markets together.
I wish you an interesting forum, and I am confident that the topics discussed here, including digital solutions for future networks, energy efficiency, navigation, sensing, and applications in traffic, wellbeing, environment, education and, others are exactly those that will create new business opportunities for both Finland and China.
By working together we can reach our global objectives in R&D&I.
Thank you for your attention.