collaboration
posts displayed by tag
Apr 11 2014
A new EU-China cooperation project has been launched last January 2014 aiming to provide continuity and progress in supporting and strengthening China Collaboration on ICT research with Europe.
The CHOICE project is funded by the European Commission DG CONNECT through its 7th Framework Programme and comprises Chinese and European partners, involved in previous and on-going EU-China collaboration projects, that will ensure all the valuable outputs of previous projects will be fully exploited and that synergies with relevant projects will be developed.
During its two-year duration, the CHOICE project emphasis will be put on:
·       Identifying obstacles to reciprocity and encouraging a more balanced relationship with China based on reciprocity, especially supporting European nationals, companies and organisations willing to access Chinese research programmes;
·       Highlighting and showcasing both EU and Chinese excellence in ICT R&D;
·       Strengthening EU-China industrial ICT R&D cooperation, also with the view of preparing the ground for new upcoming rules governing EU-China ICT R&D cooperation under Horizon 2020 (H2020).
Thanks to this approach, the CHOICE project will create a bridge towards H2020 and capitalize on the timely conjunction of H2020 shift away from technology driven towards innovation driven ICT R&D based on societal needs and consumer aspirations, with the Chinese Government's firm commitment to growing domestic demand, thus emphasizing opportunities in China for the exploitation of H2020 and in particular its potential for contributing to increasing Chinese domestic demand.
For more information, visit: http://www.euchina-ict.eu, follow the project on Twitter: @EUChinaICT and the discussions on LinkedIn: EU-China Cooperation on ICT research !
Apr 09 2013
A new FinChi office in Beijing was opened on 8th of April 2013  in Beijing.
As the facilitator of the R&D&I cooperation in ICT and digital services area, the China-Finland ICT Alliance recognizes the potential of the new center. By actively working with the key organizations involved, like Finpro and Golden Bridge, it aims at helping Finnish companies looking to enter the Chinese market as well as Chinese companies looking to set up their operation in Finland to join business oriented research activities in their respective areas. By establishing a good working relationship in jointly developing and testing new technologies and solutions with Chinese and Finnish  partners the understanding of market needs, the environment and the partnership opportunities will be improved.
source:
http://yle.fi/uutiset/finnish_innovation_centre_opens_in_beijing/6569665
News 8.4.2013 14:25 | updated 8.4.2013 14:28
Finnish innovation centre opens in Beijing
Finland has opened a new innovation centre in the Chinese capital Beijing. The centre, christened 'Finchi', will help small and medium-sized Finnish companies enter the Chinese market.
The centre is located in the Zhongguancun district, and has service points in Shanghai and Shenzhen. It is a collaboration between the Ministry for Employment and the Economy, Finpro and Tekes.
The Minister for Foreign trade, Alexander Stubb, was present for the centre's opening.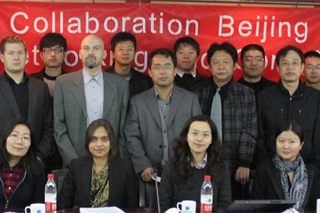 Apr 09 2012
The research projects and collaboration within the Future Wireless Networking and Core Network thematic area targets to create innovations and new solutions towards increased energy-, spectral – and cost-efficiency in future mobile communication networks. This includes e.g. development of new architectures of future mobile networks, interference management methods for future wireless networks, future green wireless communications, key technologies for future IPv6-based core network as well as testing and evaluation methodologies for future wireless networks.
The Energy and Cost Efficiency in Wireless Access (ECEWA) project is strategic Sino-Finnish collaboration initiative targeting to develop new cost and energy efficient solutions to future radio access networks. The use of emerging features such as femto cells, relays, and coordinated multipoint will require changes to the ways radio access networks are planned. Energy consumption of the network equipment has become increasingly important. The mobile network industry is looking ways to reduce the carbon dioxide emissions by improving the energy efficiency of the base station equipment. Energy efficiency of the networks will also impact on the way networks should be planned and operated. Saving energy also saves costs. Hence its natural and important to study the cost and energy efficiency jointly. The research is carried out in close cooperation with the participating Finnish and Chinese universities, research institutes and companies operating in the mobile devices and networks field to facilitate high-impact scientific work as well as societal impact through standardization contributions.