Jani Kaarlej
posts displayed by tag
Aug 31 2014
1/9/2014 – 5/9/2014
"China-Finland Co-Creating the Future" Week – Solutions for the Era of Internet Economy
September 1 – 5, 2014 Espoo and Helsinki, Finland

This week of the 7th International China-Finland ICT Alliance Workshop and related Forums has been organized by the China-Finland Strategic ICT Alliance:  DIGILE – The Finnish Strategic Center for Science, Technology and Innovation in Internet Economy, and WiCo – The Shanghai Research Center for Wireless Communications, as appointed coordinators by Tekes and MOST, in cooperation with the Ministry of Employment and the Economy, the Ministry of Education and Culture, the Academy of Finland, and participating universities and companies. The topics cover many of the current focus areas of the ICT Alliance facilitated R&D&I cooperation on digital technologies and Internet based services and business. In these areas a number of joint projects, pilots and other forms of cooperation are already ongoing while new initiatives are also being prepared. The aim is to share experiences and results of the ongoing projects as well as jointly plan new activities with the invited experts from academia, industry and public sector.
Attachments
"China-Finland Co-Creating the Future" Week - Solutions for the Era of Internet Economy

482.80 KB
More information:
Matti Hämäläinen, matti.hamalainen@digile.fi
Jani Kaarlejärvi, jani.kaarlejarvi@digile.fi
Jun 11 2013
UrbanTech China Conference in Beijing (http://www.urbantecchina.com/) is the country's only integrated trading platform featuring key industry sectors for the sustainable development of cities.
On 28-30 May, it focused this year on the utilisation of information technology on urban development, sustainability, smart city and intelligent transportation.
In the conference Jani Kaarlejärvi gave a speech on "an ecosystem approach for international R&D&I cooperation in digital services in the industry and public sectors – Case: China-Finland ICT Alliance" in a session with company representatives e.g. from Z-Park, Samsung, LG, France Telecom and NEC.
This year the conference had exhibitors of 62 companies, 43 exhibitors or 71% of which are from overseas, doubling the number last year. In addition, the two-day conference received more than 800 delegates from 300 organisations or companies, representing more than 60 cities domestic and international cities.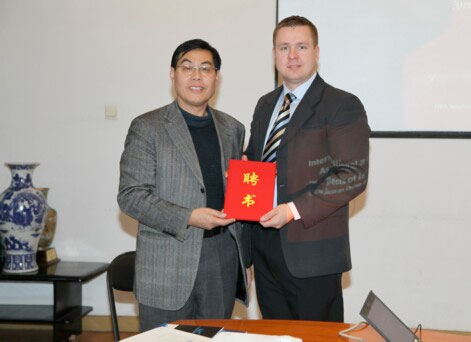 Jan 10 2013
Jani Kaarlejärvi has been appointed a Visiting Professor at BUPT, Beijing
Beijing University of Posts & Telecommunications has appointed Jani Kaarlejärvi a Visiting Professor in ICT Innovation and Economy for a 5-year period. The main objective of the professorship is to further develop China-Finland-EU cooperation the field of strategic R&D&I projects.
BUPT (http://www.bupt.edu.cn/) is one of the most famous and renowned universities in the field of telecommunications in China. It has specialised in communications, wireless communications, computer science, innovation and ICT economics. BUPT consists of 16 schools and has almost 30000 students. BUPT has for years been an active and trusted R&D partner for many leading European technology companies.
Jani Kaarlejärvi 已经被任命为北京邮电大学的客座教授。
北京邮电大学的重点研究领域在通信、无线通信、计算机科学、创新与ICT经济等方面。北京邮电大学有16所学院和近3万名学生。北京邮电大学多年来与欧洲科技公司在研发领域有非常积极的合作,是值得信任的合作伙伴。
Jani Kaarlejärvi目前是TIVIT的国际协调部主任。TIVIT是芬兰的ICT科技与创新战略中心,是欧盟第7框架CONCORD项目的成员之一。Jani Kaarlejärvi教授是CONCORD项目架构委员会和指导委员会成员,同时是科技部和欧盟合作项目OpenChina-ICT项目顾问委员会成员。